Stephen Lloyd-Morgan is a widely popular tenor, now in great demand throughout Europe.

He performs an extensive repertoire of show-stopping songs from Musical Theatre, Opera and

Classical-Crossover, as well as the more contemporary, sung in English, Welsh, Spanish, French and Italian.

Marbella - Costa del Sol - Spain - UK - Europe.

"one of the finest discoveries and is without doubt, the best tenor on the Coast"

- "Marbella's favourite tenor

"

Steve has produced and stared alongside an international cast in the continuing sell-out performances of

'West End Musicals in Concert' featuring sections dedicated to both Les Misérables & Miss Saigon,

'The Best of Broadway' celebrating The Golden Age of Broadway & 'Encore!' - The 3 Tenors

'Music of the Night' returned in 2015 for an exclusive season of shows at the H10 Andalucia Plaza Hotel, Marbella

www.musicofthenightmarbella.com / www.motn2015.com

Since 2016 Steve has been focusing on work and projects primarily away from his singing career,

although he does still perform regularly and is still available for concerts and events.

Stephen Lloyd-Morgan reconocido y popular tenor actualmente muy solicitado en toda Europa.
Tiene un extenso repertorio de temas del genero Shows, Teatro-musical, Opera y Clásicos-Crossover
al igual que otros temas mas contemporáneos cantados en Inglés, Galés, Español e Italiano.
Marbella - Costa del Sol - España - Reino Unido - Europa.
"uno de los mayores descubrimientos y sin duda el mejor tenor de la Costa"

- "tenor favorito de Marbella

"
Check out Steve's free Mobile App, listen to music, check out photos and videos and read blog posts.
---
'Music of the Night' 2015.
SEASON FINALE
www.musicofthenightmarbella.com / www.motn2015.com
'Music of The Night' 2014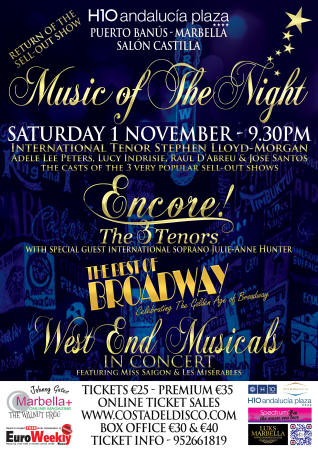 Information & press release y nota de prensa
´Music of the Night´ news and updates - please follow us on twitter and facebook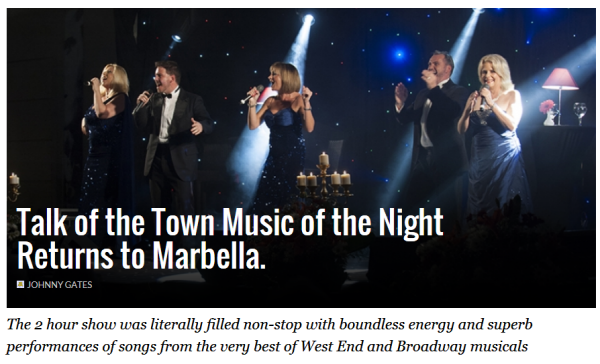 click articles for full reviews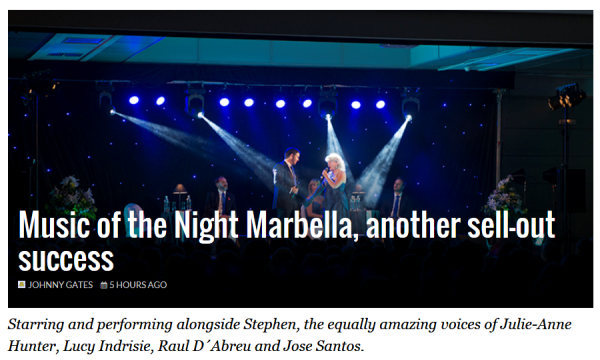 ---
West End Musicals in Concert &
Encore! The 3 Tenors appeared at
The Starlite Festival & Gala Marbella 2013
and Starlite Festival 2014
www.starlitefestival.com
press release y nota de prensa

Mijas Auditorium - 28th August 2014
Recent Press - Reviews, Features & Interviews
click on each page below to enlarge, full Press page click here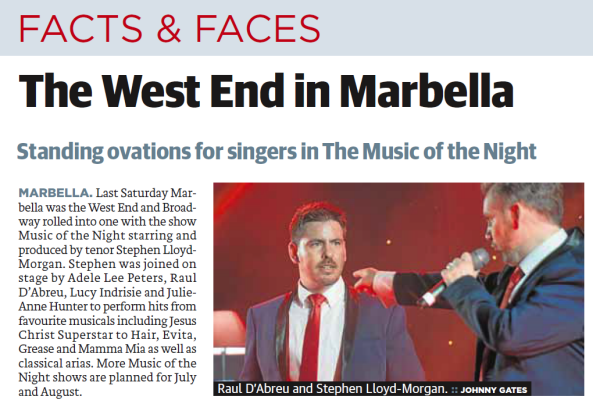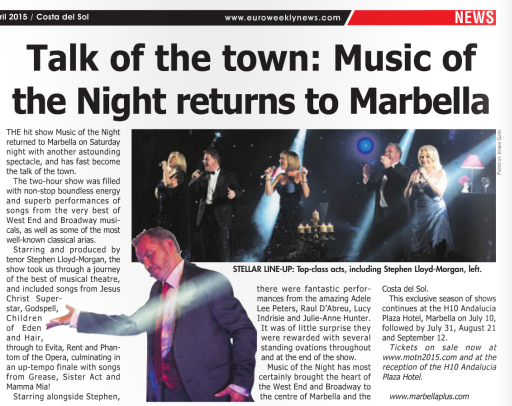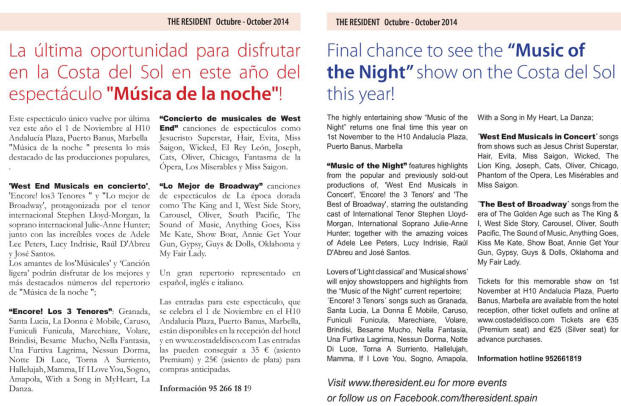 Final total raised from ´Stephen Lloyd-Morgan & Friends End of Summer Party´ - €4555.00 - please see blog here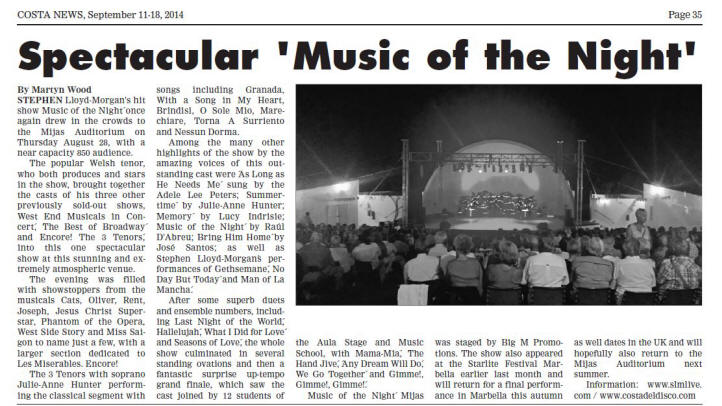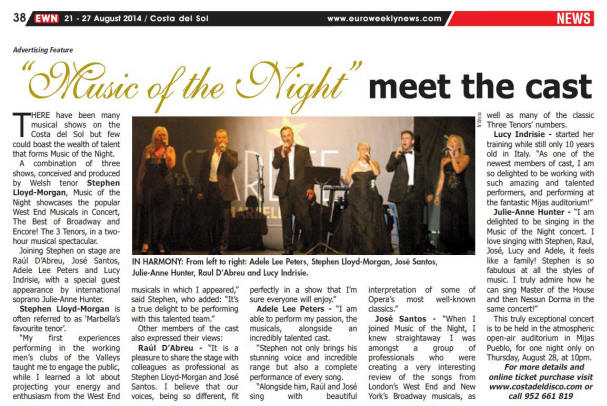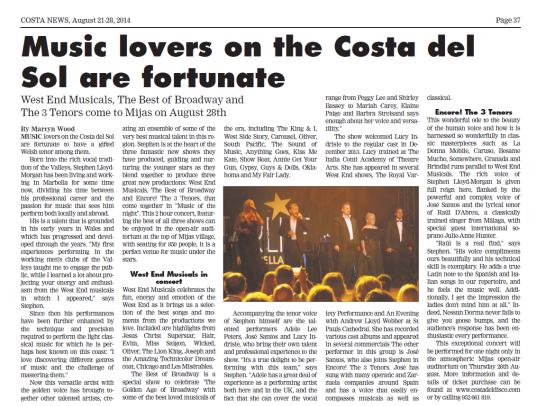 click on articles to enlarge